As a business owner, fully understanding your customer's needs, goals, and aspirations is key to creating marketing that will motivate and move them from being a website browser and convert them into buyers. It's essential that you take the time and get to know your customer's – wants, wishes, hopes, and dreams – to understand how these underlying goals help affect their buying process. By digging deeper into their individual motivations you can better understand their purchase decisions and find creative ways to turn them from someone who is interested into a loyal customer.
To help you navigate this vital step of strengthening customer relationships, we'll explore the concept of aspirational identity – why it matters for small businesses in particular and help you to unlock the secret of moving your potential customers into paying clients.
So what is an aspirational identity?
It's important to understand that when customers come to your website they arrive with an agenda.
At first it's to find a solution to a problem they are experiencing and then ultimately they desire to fulfill a deeper wish of who they want to become or be known as, this deeper want is called their aspirational identity.
Do you know your customers aspirational identity?
To put it another way, who does your customer want to become as a result of using your product or service?
As a business owner, it's important for you to understand who your customer ultimately wants to be so that you can then create messaging that's going to resonate and present an accurate reflection of what they hope to gain from being associated with your product or business.
When crafting your story, make sure it speaks directly to your customer's aspirations to truly connect with those who need and want what you have to offer.
As legendary marketer Donald Miller says, "Tell a story that speaks to the problem they have and allow them to imagine themselves as the hero of their own journey. If you do this, they can then imagine themselves in your story and see that you can help them get to where they want to go."
By understanding what your customers hope to achieve and then tell stories that help them on their path towards achieving it, you can create an enduring connection with your customers and help grow and expand your business.
The customer journey.
Your customers aspirational identity is about the journey they are on to become the person they want to be seen as or known as in relation to your business.
Such as-
From: Fearful and unsure
To: Confident and secure.
From: Confused and overwhelmed
To: Having a plan in place and able to moving forward with peace of mind.
Determining your customers aspirational identity will help you to discover the words that will provide the key to unlocking their hidden desires of their heart.
Help them to become a better version of themselves and you will create raving fans.
Although aspirational identity isn't technically part of the 7 steps of the Storybrand Framework (SB7), it is a crucial piece in discovering the words that will motive and compel your customers to buying your product or service.
Here are some examples of aspirational identity put into practice and used within the messaging for a website.
AdvisorMax.com
The aspirational identity for the clients of AdvisorMax.com are financial advisors who want to reach that "next level" of success. Their aspirational identity begins to unfold to the reader within the section of their website called – The stakes, or what's at stake if they choose to do business with another company.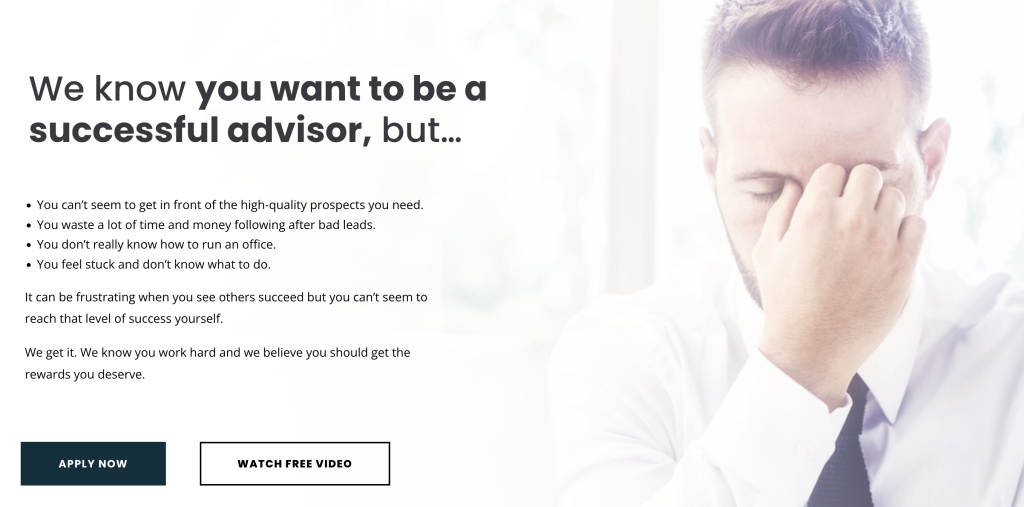 "We know you want to be a successful advisor,…"
This section is used to remind their customers who they ultimately want to become.
FindHealthInsuranceSolutions.com
Tina at FindHealthInsuranceSolutions.com helps people in need of health insurance to make sense of the overwhelming amount of information, plans, prices and benefits they need to sort through when choosing the best health insurance plan to meet their needs.
Ultimately for whatever plan her clients choose they want to "Feel safe, knowing [their] covered."
KMPRCollective.com
The clients of the Kelly Moore's Public Relations Collective are business leaders who want to be known as the thought leaders within their industry and gain the respect and admiration they've worked hard to gain.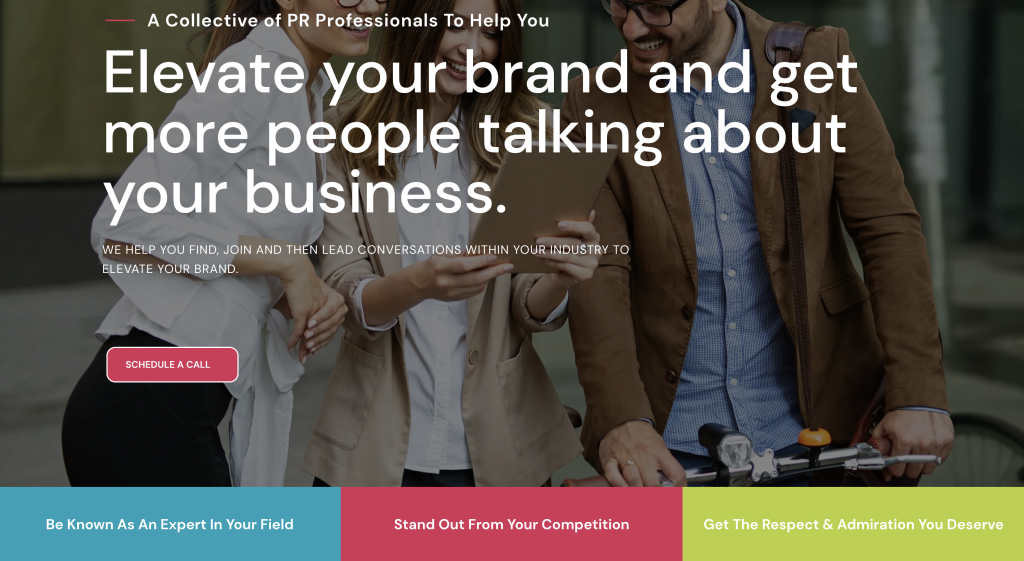 For the KMPRCollective.com website their clients aspirational identity was used in what is know as within Storybrand web design as the value stack.
The value stack is typically found directly at the bottom of the top hero panel that clearly states three "wins" the customer can expect when using your product or service.
For KMPRCollective they can know that when hiring Kelly Moore's Collective to help them with their public relations they can expect to:
Be known as an expert in your field.
Stand out from your competition.
Get the respect and admiration you deserve.
In Closing
To create a complicated but rewarding world of brand-consumer relations, understanding the aspirational identity of your potential customer is key. Once you understand what it is they are striving to be and achieve, you can craft messaging that speaks directly to that sentiment and turn passive browsers into active buyers.
If you find yourself beginning this process but realizing you need advice or assistance along the way, don't hesitate to reach out. Whether starting from scratch or fine-tuning your existing strategy, as a Storybrand Certified Guide I can provide invaluable insight based on research and experience.
Now is the time! Don't procrastinate any longer – schedule your call with Tim Yates today and get one step closer to seeing the success you deserve.