Table of Contents
Effective marketing is crucial for success in today's competitive world, where small businesses and non-profit organizations strive to attract attention. One approach that stands out is StoryBrand. If you've heard of StoryBrand and want to know more about how it can help your organization grow, you're in the right place. In this blog post, we'll explore the power of StoryBrand and how it can revolutionize your marketing efforts.
The Essence of StoryBrand
StoryBrand is a framework developed by Donald Miller that helps businesses and non-profits clarify their messages, engage their target audience, and increase conversions. It's based on the idea of storytelling and provides a customer-centered approach to marketing. StoryBrand positions the customer or donor as the hero and your organization as the guide who helps them overcome challenges and achieve their goals.
Unleashing the Potential of StoryBrand
Implementing the StoryBrand framework can transform your organization's marketing efforts in several ways:
1. Clearer Messaging: Communicating your value proposition can be challenging, but StoryBrand simplifies it. It helps you create a simple and relatable story that connects with your audience. You can engage and motivate your target market by addressing their problems, offering a clear solution, inspiring, and then calling them to take action.
2. Engaging Your Customers: In a world full of messages, standing out and capturing your audience's attention is essential. StoryBrand helps you craft a compelling narrative that resonates with your customers. Grabbing their interest and addressing their needs can build an emotional connection that earns their trust and loyalty.
3. Streamlined Marketing Collateral: Creating consistent and persuasive marketing materials can be overwhelming. StoryBrand provides a framework for developing impactful websites, emails, and social media content. It helps you focus on the essential elements driving engagement and saves time and effort.
4. Increasing Conversions: The ultimate goal of marketing is to drive conversions. StoryBrand guides your audience through a clear path, from initial awareness to becoming a customer or donor. By aligning your message with their needs, you can build trust, inspire action, and achieve growth for your organization.
The Value of a Certified StoryBrand Guide
Implementing StoryBrand effectively requires expertise and experience. That's why hiring a certified StoryBrand guide, like Tim Yates at Storyworks.Marketing, is highly valuable. Here's why: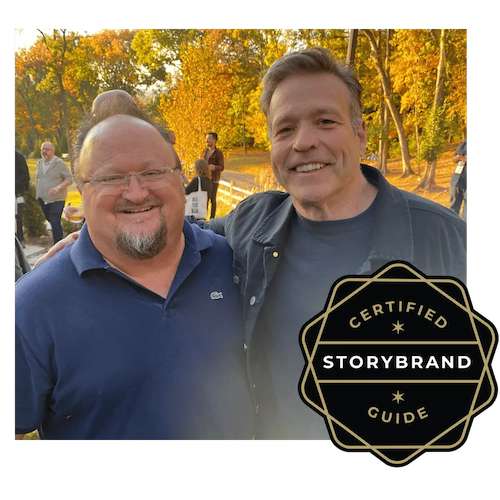 1. Expert Guidance: Certified StoryBrand guides have undergone rigorous training and gained practical experience in applying the framework to various organizations. They understand the StoryBrand principles and can tailor them to meet your specific needs. Their expertise ensures that your marketing efforts align with the StoryBrand methodology, increasing your chances of success. 
2. Objective Perspective: As a business owner or non-profit leader, it can be challenging to see your organization objectively. A certified guide brings an external perspective, helping you clarify your message and develop effective marketing strategies. They act as a trusted partner who understands your goals and empowers you to achieve them.
3. Time and Resource Optimization: Creating compelling marketing materials requires significant time and effort. By partnering with a certified StoryBrand guide, you can leverage their expertise and streamline the process. They can assist in crafting your brand story, designing your website, and developing email campaigns. This collaboration saves you time and resources, allowing you to focus on running your organization.
4. Measurable Results:
Working with a certified guide provides you with a measurable framework for success. They help you set specific goals and metrics to track the impact of your StoryBrand implementation. Through continuous analysis and refinement, they ensure that your marketing efforts consistently deliver results and contribute to your organization's growth.
Conclusion
Implementing the StoryBrand framework offers small businesses and non-profits significant potential to supercharge their marketing efforts and achieve remarkable growth. However, navigating the intricacies of storytelling and developing effective messaging can be challenging. Hiring a certified StoryBrand guide, such as Tim Yates at Storyworks.Marketing, is a wise investment that saves you time, resources, and frustration. By partnering with an expert who understands the StoryBrand methodology, you can unlock the full potential of your organization's marketing, increase conversions, and build lasting connections with your target audience.