Table of Contents
I was so young and naive.
If you build it, they will come.
That is what I used to think back in 2010 when I first started building websites.
The reality is I didn't know. I just assumed that if your website had relative content, somehow, Google would magically find it and start sending thousands of people in my direction to read my wonderful content.
A few years later, after building a few websites for friends, a local businessman asked if I could help him build a website for his business. So I did.
The moment of awakening.
But then, a few months later, I decided to follow up with him to see how his website was helping his business.
"I love the new website Tim, but honestly, I don't think anyone is seeing it?" – he said. "What do you mean?" – I asked.
"I think I'm getting zero traffic to the site."
Hmmm…that could be a problem.
That moment is when I discovered that just because "you build it" doesn't mean "they will come." Or, to be more clear that Google will send them in your direction.
So if it's not true, what do I do?
So I started researching what I could do to get more website traffic to the websites I would build, and here's what I found.
There are over 3 Billion websites on the internet today. That's a lot of websites.
Imagine this.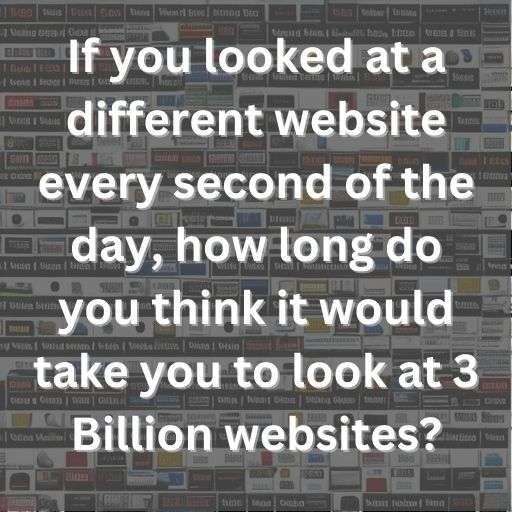 If you looked at one website for one second, then moved on to the next website and kept doing that for 24 hours straight, it would take you 11 days and 14 hours to look at 1 million websites.
Doing the same thing for a billion websites would take you 39 years and 9 months.
And if you looked at three billion websites, one after the other, it would take you 95 years and 4 months!
Now you can see like I did, why the "if you build it, they will come" kind of thinking doesn't work.
SEO: a slow but true investment into your marketing.
The reality is this; if you don't tell Google about your website (which is what SEO is), they will not know you exist.
So what exactly is SEO?
SEO in its simplest form is this; Google has determined a set of criteria they look for when searching for websites they can feel confident about sending their customers to. The more your website meets Google's criteria, the higher it will be ranked and shown.
So when your ideal client uses Google to look for someone like you, Google pulls the websites they know of, sorts them using different criteria, and then shows the results to the person looking.
And this is what is called Search Engine Optimization (SEO).
So the moral of this story is this; if you haven't invested in SEO for your website, the chances of you being seen are worse than playing Power Ball.
1 in 3 Billion. Yikes!
Increase your website traffic guaranteed.
Today I can say with 100% confidence that if you're tired of seeing your clients go to competitors' websites and they end up getting the business you deserve. It's because they have invested in SEO.
Take back your clients.
If you're ready to be seen, here at StoryWorks, we offer both national (organic) and Local SEO to help your website rise to the top and take back your customers.
Schedule a Call, and let's put together a custom SEO strategy for your business that will get results. Guaranteed.
BONUS! – Take advantage of this FREE Download and discover the answers to 3 Secrets Google Isn't Telling You About Your SEO.